COLORFRONT STREAMING SERVER MINI

Streaming Server Mini streams reference quality HD video and 8 channels of audio.
Free trial is now available for NVidia PCs and M1/Max/Pro + intel based Macs and supports NDI as well as most AJA and Blackmagic cards.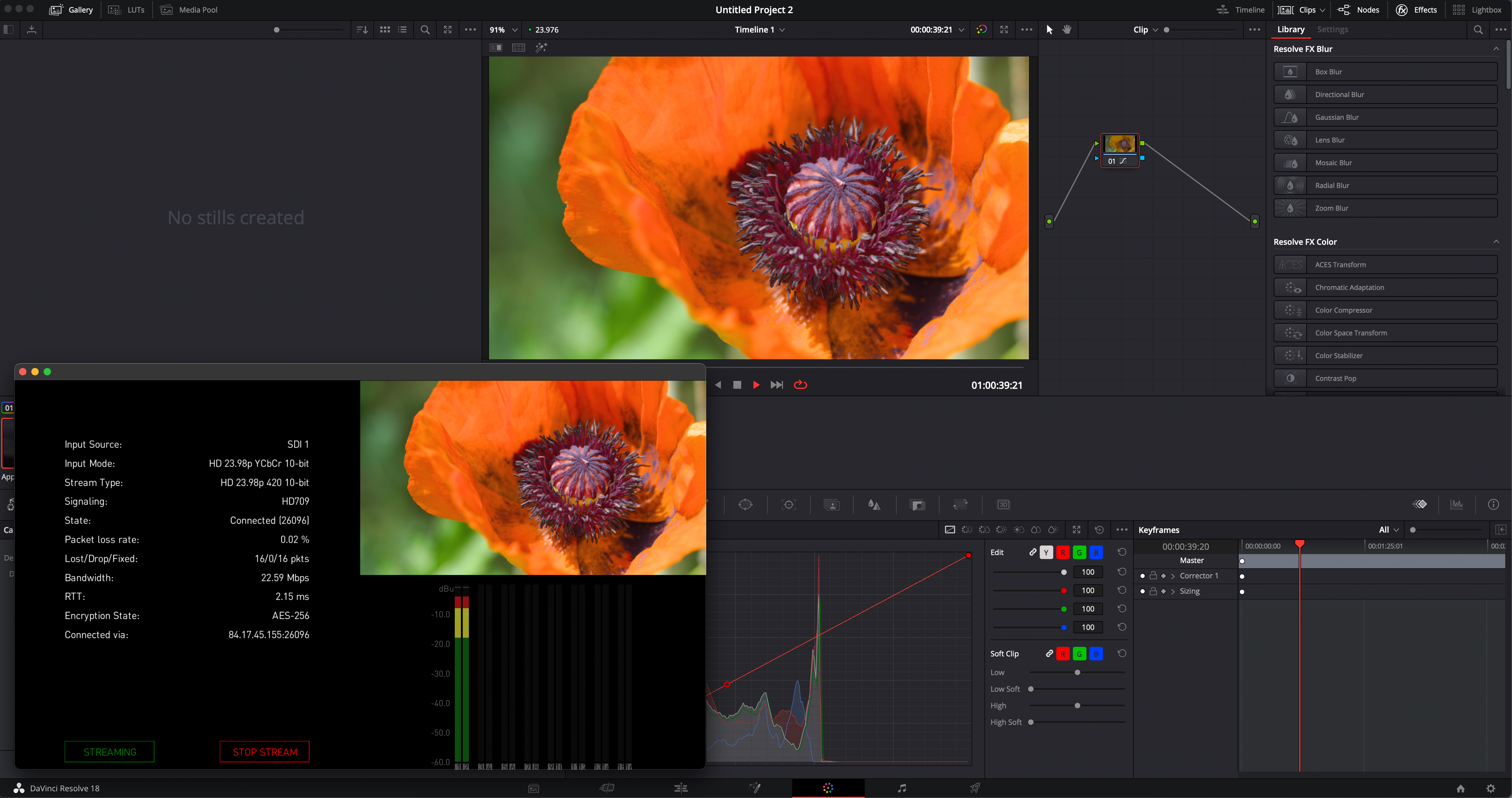 Streaming Server Mini is currently available for a free trial, if you would like to sign up,
please fill out the form, and we will contact you with further instructions and a download link.
Colorfront Streaming Server Mini is a brand new, software-only product that allows creatives to live-stream material directly from popular NLE, compositing and color grading systems, without the need for additional hardware.
Hardware Requirements
Streaming Server Mini runs on Windows 10 PCs and Mac OS X platforms.
Currently supported cards include AJA Kona 4, Kona 5, Corvid 44 12G, T-Tap Pro and
BMD Decklink 8K Pro, Decklink Duo 2 and Ultra Studio Mini 4K.
Video is currently limited to HD only, 4:2:0 10-bit video at 10 mbits, with upto 8-channels of audio.
First introduced at HPA 2022, Streaming Server Mini is a hardware free solution, requiring no external hardware, which can be easily installed and run on the same workstations that creative artists use to perform editorial, compositing and color-grading tasks. Using Streaming Server Mini, work-in-progress content can be easily streamed to stakeholders, wherever they are around the world.
Streaming Server Mini works in real-time with HD or 2K content, in Rec709 SDR or HDR, and uses SRT (Secure Reliable Transport Protocol) to deliver pristine quality, sub-second latency realtime video, plus multi-channel audio, over the public internet to multiple remote clients concurrently. 256-bit AES encryption is used to ensure content remains secure and protected.
Colorfront unveils cutting-edge innovations for remote, color-accurate 4K HDR postproduction at HPA 2022 |

110 KB
With the need to provide creatives the ability to review at the highest quality, The Foundation chooses Colorfront Streaming Server because its' image quality is unmatched.
Gareth Cook, Owner/Colorist at The Foundation in Los Angeles.
Reference quality real-time video streaming from live video gives you the quality of review you would expect in a grading suite or screening room, but remotely. Share colour and frame-accurate footage in SDR or HDR from third-party applications such as Blackmagic Resolve or Autodesk Flame – all in real-time.