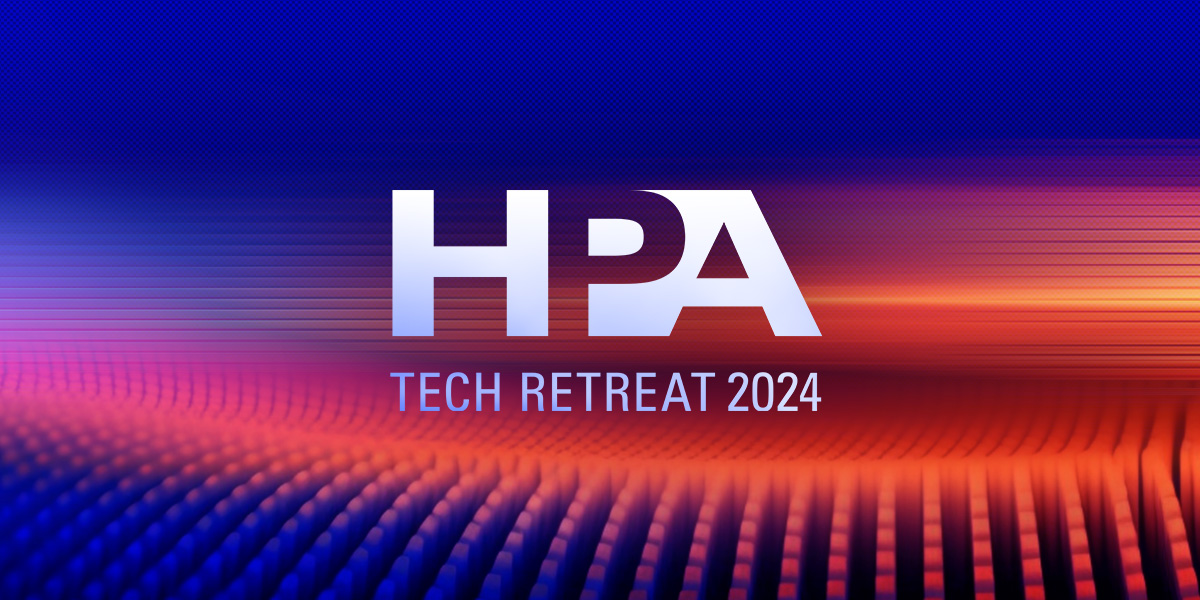 Colorfront will be at the HPA Tech Retreat 2024 at The Westin Rancho Mirage Golf Resort between February 18-22, 2024. Colorfront will be presenting a Breakfast Roundtable as well as in the Innovation Zone.
The HPA Tech Retreat is the pre-eminent gathering of industry-leading thinkers and innovation-focused companies engaged in the creation, management, and dissemination of content.

SMPTE MEDIA TECHNOLOGY SUMMIT 2023
Colorfront will be at the SMPTE Media Technology Summit 2023 in Hollywood from October 16-19, 2023 on Booth #51 at The SMPTE Spectrum Exhibits.

The SMPTE Spectrum space will be dedicated to the color science of digital cinema. Exhibitors in this space can present groundbreaking solutions for the fields of color management including color grading, reference displays, electronic image sensors and scopes.

We will be demoing our new Colorfront dynamic range expansion tool purpose-designed to help content owners repackage their historic/legacy SDR catalogs of films and TV programming into Dolby Vision HDR masters with corresponding XML metadata, facilitating a newly-derived SDR master that matches the original.
COLORFRONT AT IBC 2023
IBC 2023, Amsterdam – Colorfront will present the latest 2023 versions of Transkoder, On-Set Dailies and Streaming Server at IBC 2023 in Amsterdam between September 15-18 at the Okura Hotel.

COLORFRONT DOES IBC 2023… LIVE FROM FRANKFURT‽ PLUS OTHER BREAKING NEWS FROM AMSTERDAM - Colorfront will show the latest implementation of Transkoder on Mac Silicon, featuring new AI and Dolby Vision tools, amongst other technological advances at The Okura Hotel. Colorfront does IBC 2023 | 100 KB
COLORFRONT UNVEILS IMPRESSIVE 8K/HDR STREAMING FEATURES AT NAB 2023

NAB 2023, Las Vegas – Demonstrations of Transkoder, Streaming and Dailies systems are taking place at The Conrad Hotel at Resorts World and at Amazon's AWS booth in West Hall #1701 during the event, as news breaks about a landmark implementation of Colorfront's 8K/HDR technology at Amazon's Culver Theater.
Colorfront Unveils Impressive 8K/HDR Streaming Features at NAB 2023 |

164 KB
Colorfront unveils 8K/HDR streaming features at NAB 2023 in Las Vegas.
Colorist Tim Wreyford and his experience with Colorfront's Streaming Server Mini
Remote grading has become a way of life.

Working from his home studio using Streaming Server Mini for live grading/review sessions, Wreyford has successfully worked on major advertising campaigns for clients spread far and wide. These include: Kia, with director Simon Thomas at production company Elastic in Sydney; and a Head & Shoulders commercial, which was attended simultaneously by the director and production team at Elastic from two different locations in Sydney, plus agency executives over in Singapore.
Colorist Tim Wreyford and his experience with Colorfront's Streaming Server Mini | 1 MB | 6.8 MB
Colorfront Streaming Server Mini enables remote color grading and improved work-life balance for colorist Tim Wreyford.
Grading in Pajamas | Streaming Server at Pharos
While many parts of post-production can now be done "on any laptop", grading still takes place in a suite - but does it have to be like this? Wouldn't it be great if you could stream a full quality video signal and not have to send to colorists across the country?

Digital Production interview with Aaron Kuder, Technical Supervisor Imaging at Pharos formerly ARRI Media in Berlin, on how they are using Colorfront Streaming Server to securely stream reference quality color accurate 4K video for grading and QC remotely.

Grading in Pajamas | 2.9 MB

We can now react easily and spontaneously in the dailies, grading and QC area, and colleagues can work together on a project across branches.
Aaron Kuder, Technical Supervisor Imaging at Pharos
Grading still often takes place in a suite, but Colorfront has created a product that allows streaming of full-quality video signals for remote color grading.
COLORFRONT STREAMING SERVER MINI

Streaming Server Mini is a software-only solution, requiring no external hardware, which can be easily installed and run on the same workstations that creative artists use to perform editorial, compositing and color-grading tasks. Using Streaming Server Mini, work-in-progress content can be easily streamed to stakeholders, wherever they are around the world.

Streaming Server Mini works in real-time with HD or 2K content, in Rec709 SDR or HDR, and uses SRT (Secure Reliable Transport Protocol) to deliver pristine quality, sub-second latency realtime video, plus multi-channel audio, over the public internet to multiple remote clients concurrently. 256-bit AES encryption is used to ensure content remains secure and protected.
Sub-second latency robust streaming
10-bit reference quality HD video
8-channels of audio
SDR/HDR and Dolby Vision
Dolby Vision tunneling
256-bit AES encryption
uses SRT (Secure Reliable Transport Protocol)
Multiple remote viewers and collaborators
Streaming Server Mini works with Resolve, Flame, Scratch, Nuke, RV, MediaComposer, Premiere etc.
Free trial is now available for NVidia PCs and M1/Max/Pro + intel based Macs and supports NDI as well as most AJA and Blackmagic cards.
COLORFRONT SUPPORT FOR AWS CDI UNLOCKS NEW POTENTIAL FOR CLOUD-BASED VISUAL EFFECTS AND CONTENT CREATION
Autodesk Flame with CDI running on AWS

Los Angeles – December 07, 2022 - Colorfront (colorfront.com) – continues to push boundaries and create new ways of efficient working with the announcement that Colorfront Streaming Server now supports AWS Cloud Digital Interface (AWS CDI) network technology. This pioneering advance unleashes fresh potential for collaborative, cloud-based content creation by enabling digital artists, operating applications that run on Amazon Web Services (AWS), to conduct live remote sessions or deliver work-in-progress to multiple production stakeholders using reference-quality assets, over the public internet.
Colorfront support for AWS CDI unlocks new potential for cloud-based visual effects and content creation | 108 KB
Colorfront Transkoder delivers a masterful performance at Annapurna Studios
The Telugu film industry, also known as 'Tollywood', has blossomed to become one of the largest film industries in India, shooting and releasing hundreds of features each year. CTO CV Rao expalains how Annapurna Studios is harnessing the power of Colorfront Transkoder for deliverables and DCP / IMF mastering needs.


RRR was shot in-and-around the capital city and premiered on over 10,000 screens worldwide, in a large range of multi-language release formats, including IMAX, 3D-stereo and Dolby Cinema. After colour grading the movie, Annapurna Studios struck no fewer than 70 DCP masters for worldwide distribution using Colorfront Transkoder.

"Transkoder has been a most welcome addition to our mastering facility"

Colorfront Transkoder delivers a masterful performance at Annapurna Studios | 1 MB
Transkoder 2022
See What's New in Transkoder 2022 in IMF and DCP mastering, rendering, audio, metadata, Dolby Vision, ACES and remote workflows and streaming.


COLOFRONT REMOTE STREAMING SOLUTIONS SURGE IN DEMAND AS NEW FEATURES ARE REVEALED AT IBC 2022
IBC 2022, Amsterdam – Colorfront is reporting a surge in global demand for its live-streaming systems for remote collaboration, as the company showcases new features across the product line at IBC 2022. These include advances to the latest versions of Colorfront Streaming Server, Streaming Server Mini, Streaming Player, Advanced Streaming Gateway and Broker Invitation System.
Colorfront Streaming News at IBC 2022.pdf | 94 KB
COLORFRONT PRESENTS POTENT CONNECTIVITY AND IMAGE-PROCESSING CAPABILITIES FOR DAILIES AND TRANSKODER AT IBC 2022
IBC 2022, Amsterdam – Colorfront is showing potent new connectivity and image-processing capabilities across its Express Dailies, On-Set Dailies and Transkoder systems at IBC 2022. These include streamlined integration into NDI and IMF component-based media workflows, expanded support for AWS cloud storage and the latest digital camera/audio formats, plus new timeline editorial/user-interface tools.
Colorfront ExD, OSD & Transkoder at IBC 2022 News.pdf |

78 KB
Streaming Player



Streaming Player is Colorfront's streaming video receiver software, that can decode the encrypt HEVC stream from Streaming Server and Colorfront Transkoder / Dailies products, and which supports professional video output to a variety of displays, from your phone to a 4K Dolby cinema.

You can securely stream from any Colorfront Software including On-Set Dailies, Transkoder, QC Player or Streaming Server (Mini) to multiple remote Streaming Players at the same time.
With the need to provide creatives the ability to review at the highest quality, The Foundation chooses Colorfront Streaming Server because its' image quality is unmatched.
Gareth Cook, Owner/Colorist at The Foundation in Los Angeles.