COLORFRONT REMOTE STREAMING
Colorfront has announced the launch of reference quality sub-second latency video streaming on July 01, 2020.
For customers with in-facility Transkoders, Colorfront has enabled high-quality and low-latency remote-access that gives them access to the full-functionality of their systems. For cloud-based workflows, Colorfront has leveraged its many years of practical experience with Amazon AWS and Microsoft Azure cloud services, to offer multi-GPU Transkoder instances in the cloud for fast and efficient rendering, available by the hour.
Colorfront Remote/Cloud Working Initiative Enables New Era For TV & Film Post Workflows |

86 KB
Colorfront Streaming Player allows reference quality secure remote viewing of DPX, TIFF, OpenEXR image sequences, UHD ProRes XQ master files, digital cinema packages, mxf wrapped J2K IMF packages with Dolby Vision, Dolby Atmos immersive audio and subtitles and any digital camera RAW files (8K RED, ALEXA LF / 65 RAW, Codex HDE ARX, Sony Venice RAW, Blackmagic RAW, Canon, Panasonic, Phantom etc.) that Colorfront Transkoder supports.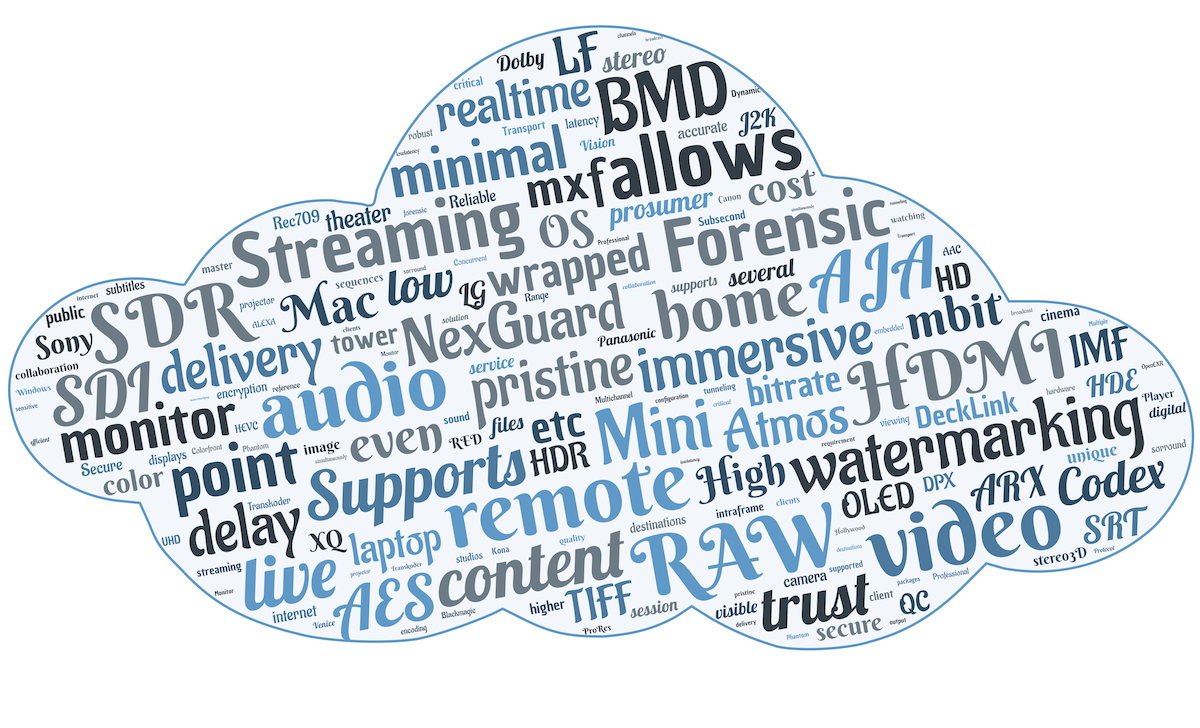 Sub-second latency robust streaming
minimal delay realtime video delivery
8-800 mbit HEVC
much more efficient than intra-frame encoding for higher quality of service at any given bit-rate
SRT (Secure Reliable Transport Protocol)
pristine quality, low-latency live video over the public internet
10-bit 4:4:4 reference quality video
allows color accurate critical QC on a theater projector or 4K HDR reference broadcast monitor
Multi-channel audio
48kHz 16bit embedded AAC audio with 5.1, 7.1 sorround sound or immersive 5.1.4 channels
from HD SDR all the way to 4K HDR in stereo 3D
works with HD, 2K & 4K, and stereo3D content in Rec709 SDR or HDR
Dolby Vision tunneling
High Dynamic Range with with Dolby Vision on prosumer displays such as an LG OLED via HDMI

256-bit AES encryption
the same requirement the Hollywood studios trust for all their sensitive content
Forensic watermarking
NexGuard forensic and unique visible watermarking
Concurrent video output while remote streaming
remote session with client watching live from home
Multiple destinations
point-to-multi point solution allows collaboration with several remote clients simultaneously
Streaming Player client on Windows and Mac OS
low cost hardware supported on tower, 1RU and even on a laptop configuration
Professional AJA / BMD video output via SDI / HDMI
Supports AJA Kona 5/Corvid 44/io4K+ and BMD DeckLink Mini Monitor 4K/UltraStudio 4K Mini
Remote Streaming is available from any Transkoder system in a facility or in AWS/Azure as part of the feature set of Transkoder 2020 on Windows - available at no charge to all customers on a valid subscription. Streaming Player client is available on both Windows and Mac OS.
More details in the PDF slides