COLORFRONT REMOTE STREAMING
Colorfront is offering sub-second latency reference quality secure video streaming.
For customers with in-facility Transkoders, On-Set Dailies and Express Dailies systems on Windows, Colorfront has enabled high-quality and low-latency remote video output. For cloud-based workflows, Colorfront has leveraged its many years of practical experience with Amazon AWS and Microsoft Azure cloud services, to offer multi-GPU Transkoder instances in the cloud with remote video output.
The same remote streaming technology is also available for any live SDI video source using Colorfront's Remote Streaming Server solution.
Colorfront Remote/Cloud Working Initiative Enables New Era For TV & Film Post Workflows |

86 KB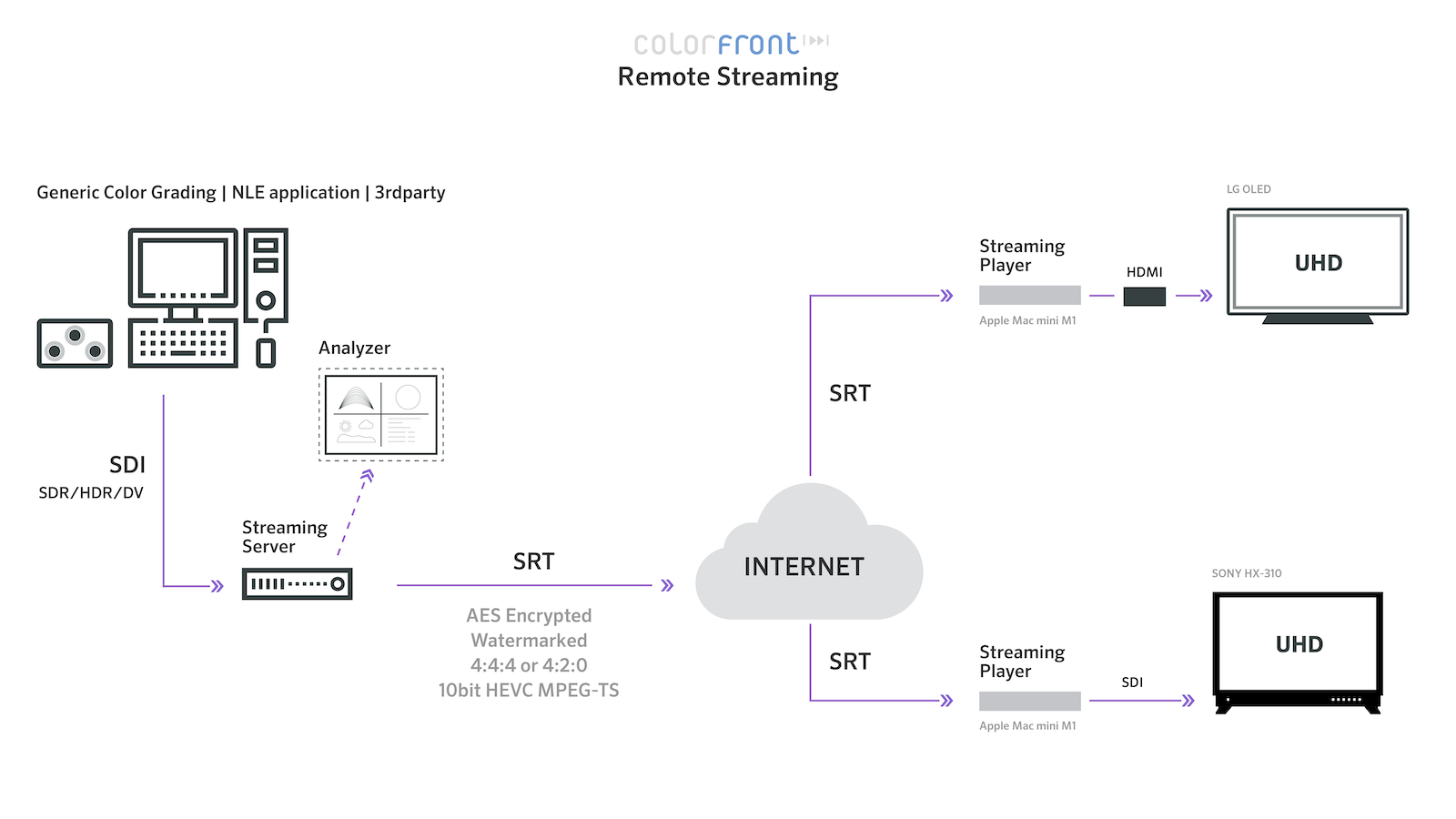 Sub-second latency robust streaming
minimal delay realtime video delivery
8-800 mbit HEVC
much more efficient than intra-frame encoding for higher quality of service at any given bit-rate
SRT (Secure Reliable Transport Protocol)
pristine quality, low-latency live video over the public internet
10-bit 4:4:4 reference quality video
allows color accurate critical QC on a theater projector or 4K HDR reference broadcast monitor
Multi-channel audio
48kHz 16bit embedded AAC audio with 5.1, 7.1 sorround sound or immersive 5.1.4 channels
from HD SDR all the way to 4K HDR in stereo 3D
works with HD, 2K & 4K, and stereo3D content in Rec709 SDR or HDR
Dolby Vision tunneling
High Dynamic Range with with Dolby Vision on prosumer displays such as an LG OLED via HDMI

256-bit AES encryption
the same requirement the Hollywood studios trust for all their sensitive content
Forensic watermarking
NexGuard forensic and unique visible watermarking
Concurrent video output while remote streaming
remote session with client watching live from home
Multiple destinations
point-to-multi point solution allows collaboration with multiple remote clients simultaneously anywhere in the world
Streaming Player client on Windows and Mac OS
low cost hardware supported on tower, 1RU and even on a laptop configuration
Professional AJA / BMD video output via SDI / HDMI
Supports AJA Kona 5/Corvid 44/io4K+/T-Tap Pro & BMD DeckLink Mini Monitor 4K/UltraStudio 4K Mini
Haivision Hub and Gateway compatibility Interoperable with SRT solutions from other vendors such as AWS MediaConnect
COLORFRONT STREAMING SERVER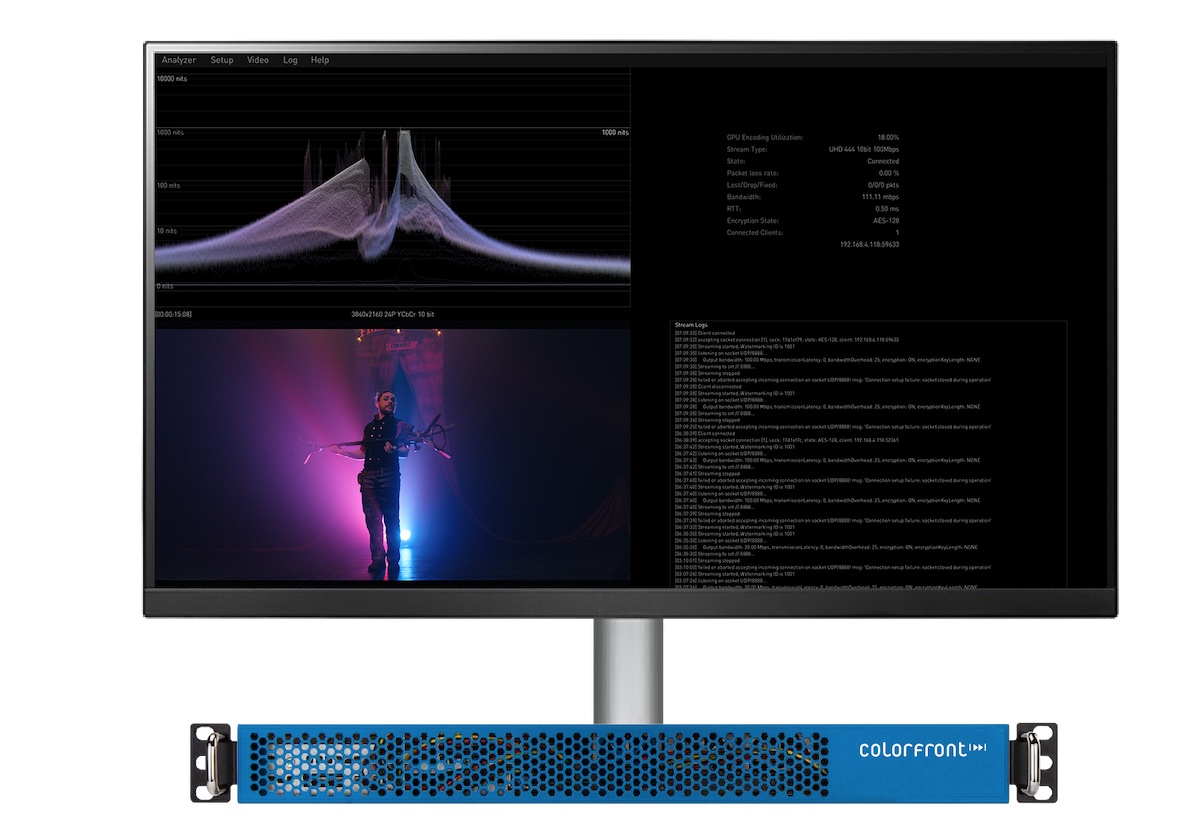 Colorfront is also announcing a 1RU dedicated streaming server appliance offering multiple channels of live video streaming, via 12G-SDI input in UHD, with Dolby Vision support.
Sub-second latency reference quality video streaming from live video gives you the quality of review you would expect in a grading suite or screening room, but remotely. Share colour and frame-accurate footage in 4K HDR from third-party applications such as Blackmagic Resolve or Autodesk Flame – all in real-time.
Multiple Hollywood facilities have already started to use it in production, streaming from their facility to users using the same streaming player client application. Colorfront has also developed a new web-UI interface to control the server.
COLORFRONT STREAMING PLAYER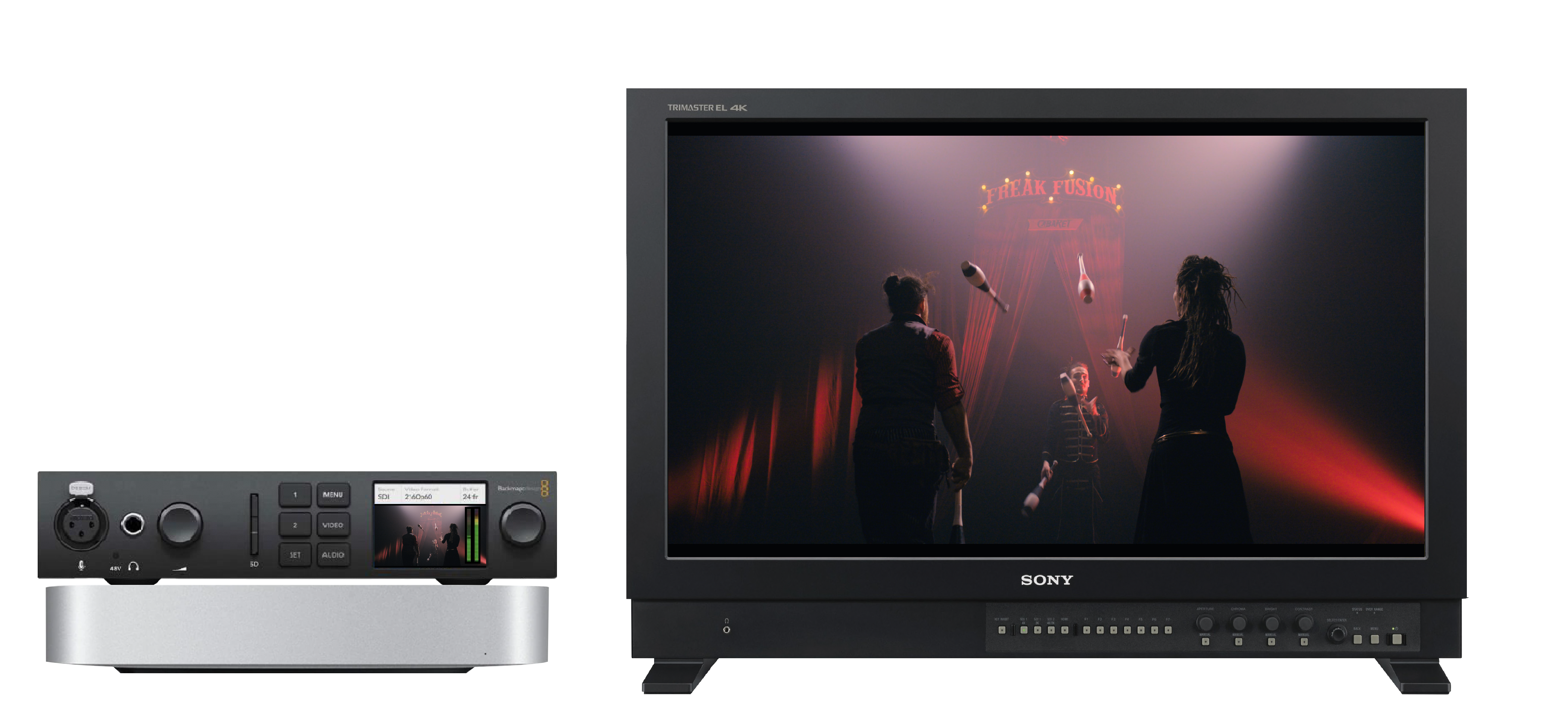 Colorfront is announcing support for Streaming Player for the Blackmagic Design UltraStudio 4K Mini, an inexpensive small form-factor setup enabling 4K HDR output via both SDI and HDMI.
Alternatively, you can connect to an Apple XDR Pro display directly via Thunderbolt 3, or to a prosumer OLED monitor via the HDMI output of the Apple M1 Mac Mini.
Apple Mac mini M1
CPU: M1 chip with 8‑core CPU, 8‑core GPU, and 16‑core Neural Engine
Memory: 8GB unified memory
Storage: 256GB SSD
optional Video I/O: Blackmagic Design UltraStudio 4K Mini
Remote Streaming is available from any Transkoder system in a facility or in AWS/Azure as part of the feature set of On-Set Dailies, Express Dailies and Transkoder 2020 on Windows - available at no charge to all customers on a valid subscription. Streaming Player client is available on both Windows and Mac OS.