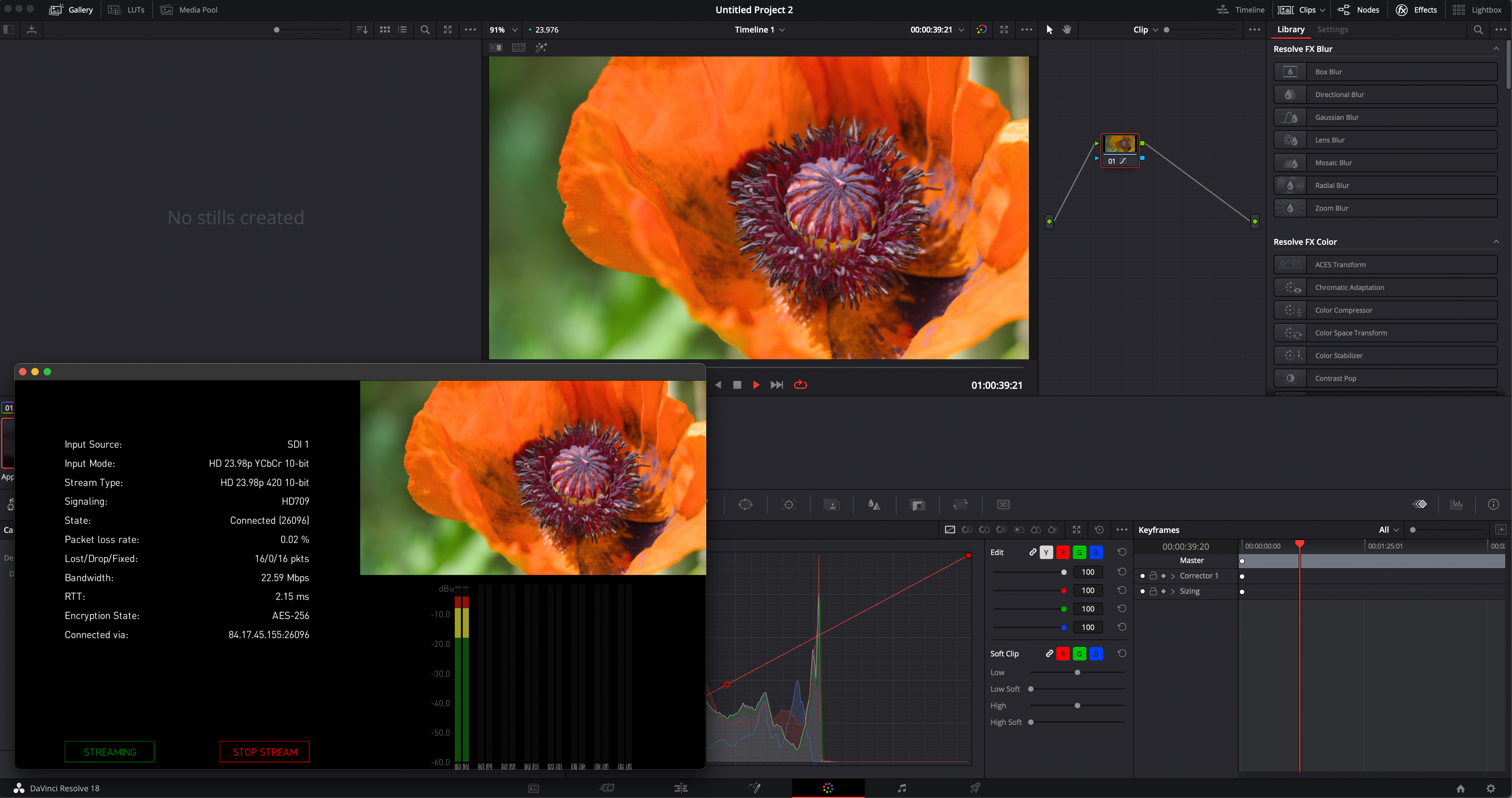 Streaming Server Mini is currently in private beta, if you would like to sign up,
please fill out the form, and we will contact you with further instructions and a download link.
Colorfront Streaming Server Mini is a brand new, software-only product that allows creatives to live-stream material directly from popular NLE, compositing and color grading systems, without the need for additional hardware.
Hardware Requirements
Streaming Server Mini runs on Windows 10 PCs and Mac OS X platforms.
Currently supported cards include AJA Kona 4, Kona 5, Corvid 44 12G, T-Tap Pro and
BMD Decklink 8K Pro, Decklink Duo 2 and Ultra Studio Mini 4K.
Video is currently limited to HD only, 4:2:0 10-bit video at 10 mbits, with upto 8-channels of audio.
First introduced at HPA 2022, Streaming Server Mini is a hardware free solution, requiring no external hardware, which can be easily installed and run on the same workstations that creative artists use to perform editorial, compositing and color-grading tasks. Using Streaming Server Mini, work-in-progress content can be easily streamed to stakeholders, wherever they are around the world.
Streaming Server Mini works in real-time with HD or 2K content, in Rec709 SDR or HDR, and uses SRT (Secure Reliable Transport Protocol) to deliver pristine quality, sub-second latency realtime video, plus multi-channel audio, over the public internet to multiple remote clients concurrently. 256-bit AES encryption is used to ensure content remains secure and protected.
Colorfront unveils cutting-edge innovations for remote, color-accurate 4K HDR postproduction at HPA 2022 |

110 KB