Colorfront Launches Express Dailies 2020 On New Mac Pro With Annual Rental License
Budapest, December 10, 2019 – Colorfront – today announced a new, annual rental model for Colorfront Express Dailies that dramatically reduces the cost of operating the software.
Launching in Q1 2020, Colorfront's subscription service enables users to rent Express Dailies 2020 for an annual fee. Additionally, the availability of Apple's brand-new Pro Display XDR, designed for use with the new Mac Pro, makes on-set HDR monitoring, enabled by Colorfront systems, a more financially viable proposition than ever before.
Colorfront Launches Express Dailies 2020 On New Mac Pro With Annual Rental License |

50 KB
Powerful mobile post-production system
Express Dailies is a powerful and easy to use mobile post-production system for transcoding, archiving, QC and deliverables, Express Dailies sets the bar for functionality and performance, based on Colorfront's industry leading image science technology and color tools.
Express Dailies aids DITs worldwide in the grading, data wrangling and encoding workflow for commercials, film and television production and is built on the same technology as Colorfront On-Set Dailies, the leading dailies system for Hollywood features and primetime episodic television.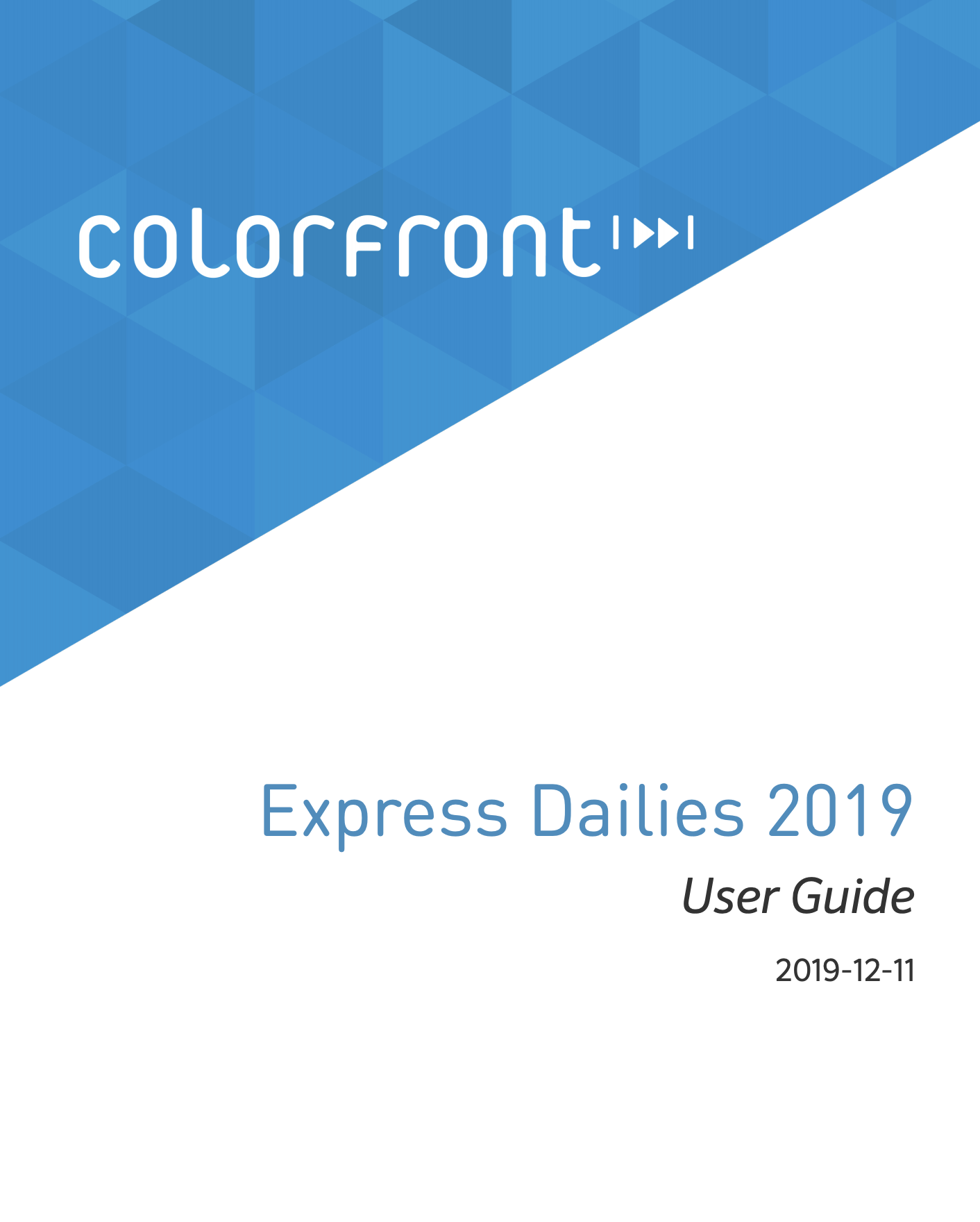 Express Dailies 2019 User Guide.pdf | 53.6MB
Express Dailies is an exciting new addition to Colorfront's family of dailies and back-end workflow systems for feature, television and commercials production. It gives them access to a set of leading edge features with the same market-leading performance of our On-Set Dailies system, which has gained such a dominant market position.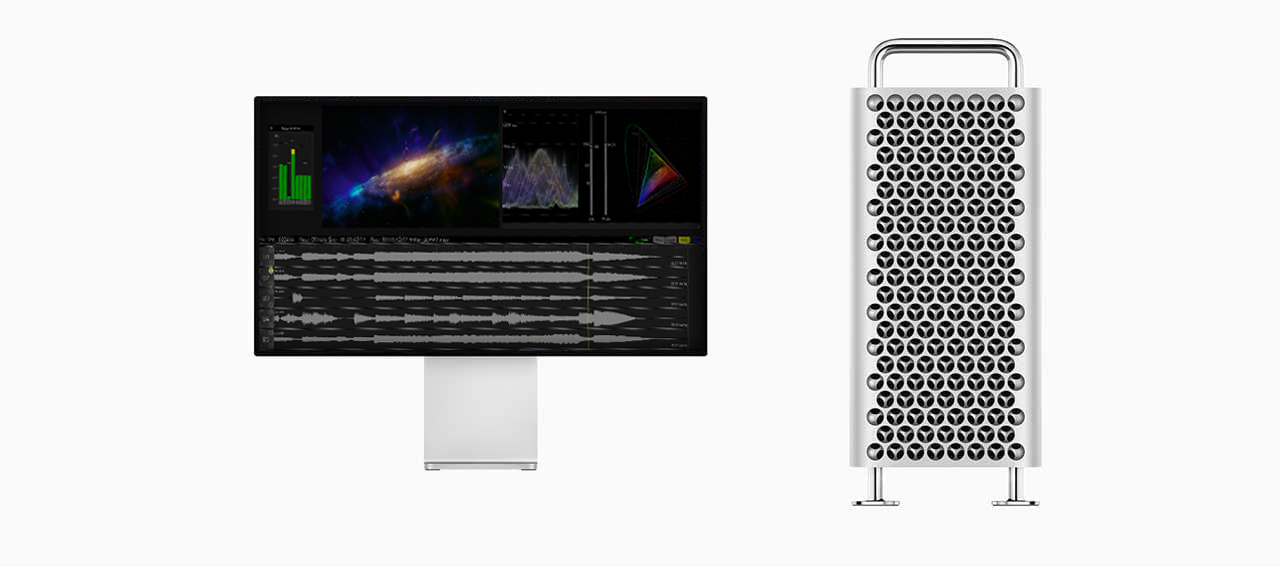 Express Dailies Highlights
Easy-to-Use

single, standardized on-set or near-set file based workflow regardless of the camera with a simple drag-and-drop user interface that anyone can use.

64-Bit Performance

runs on the new Mac Pro tower and iMac. Support for AJA Kona5 and Io4K cards deliver realtime 4K video playback and high-quality RAW image de-Bayering, including ARRIRAW and Venice and ProRes RAW.

Extensive Camera Format Support

realtime support for all major RAW formats and the latest digital cinematography cameras from RED, Sony, ARRI, Canon, Phantom, Go Pro, as well as DSLRs.

Faster-than-realtime Deliverables

delivers sound-sync'd, color graded dailies deliverables faster-than-realtime in all formats required for dailies review, post production and archive, including DNxHD 444 for Avid and all ProRes formats for Final Cut, uncompressed DPX, TIFF, OpenEXR, QT, and H264 for web-based dailies and iPad.

On-Set Look Creation

compact location-based look creation for on-set looks, exports and manages 3DLuts to external LUT boxes, including BMD HDLink Pro. Express Dailies supports the IIF/ACES workflow, plus Tangent Devices Element control panel.

QC and Copies

for data management and security of material, Express Dailies creates checksum verified copies to multiple destinations, including LTO5. Includes waveform monitor and histogram analysis tools for QC and integrated PDF QC reporting.
FEATURES
Simple drag & drop user interface
All major RAW/uncompressed camera source formats
HDR GUI and HDR video output support
Color grading, CDL, ARRI Alexa.look file support
Flexible 32-bits per channel image processing pipeline
IIF / ACES workflow with OpenEXR file format support
High performance rendering
multiple UHD Deliverables with different burn-ins, watermark
Simultaneous creation of multiple delivery formats:
DNxHD MXF, ProRes, H264, HEVC, DPX, OpenEXR
Sound syncing, Multiple metadata burn-ins
Built-in waveform, histogram, stereo analysis tools
Checksum verified copy and LTO archival
Frame.io integration
HARDWARE REQUIREMENTS
Express Dailies 2020 is announced to support the new Mac Pro, providing Windows Supermicro level performance on the Mac. With the Apple AfterBurner accelerator card, you can further accelerate ProRes and ProRes RAW workflows.
Express Dailies 2020 is currently in closed beta testing and is planned to be released in by NAB 2020.



new Mac Pro with 6K XDR display
The new Mac Pro offers upto 28-core processor, upto 2x AMD Radeon Pro Vega II Duo GPUs, professional SDI video output via AJA Kona5. With the new 6K Pro Display XDR monitor, Express Dailies supports 6K HDR dailies.
Apple Mac Pro

27" 5K Retina iMac
The 27" iMac with Retina 5K display is a great Express Dailies platform. It offers a 5120‑by‑2880 resolution retina display with support for 500 nits and full P3 color space, 3.7GHz 6‑core Intel Core i5 processor and Radeon Pro Vega 48 GPU with 8GB of HBM2 memory.
CONTROL PANELS SUPPORT
Tangent Devices ELEMENT panel
Tangent Devices WAVE, CP200 panels
AVID Artist Color and Transport panels