Powerful dedicated 2K/4K transcoding application automates fast, high-quality digital file conversion at the highest performance for studios and VFX facilities involved in motion picture and high-end TV production.
Colorfront Transkoder is the ultimate tool for DCP and IMF mastering, including: the industy's highest performance JPEG2000 encoding and decoding, 32-bit floating point processing on multiple GPUs, MXF wrapping, accelerated checksums and AES encryption and decryption, IMF/IMP and DCI/DCP package authoring, editing, transwrapping.
Colorfront Transkoder 2022 | What's New?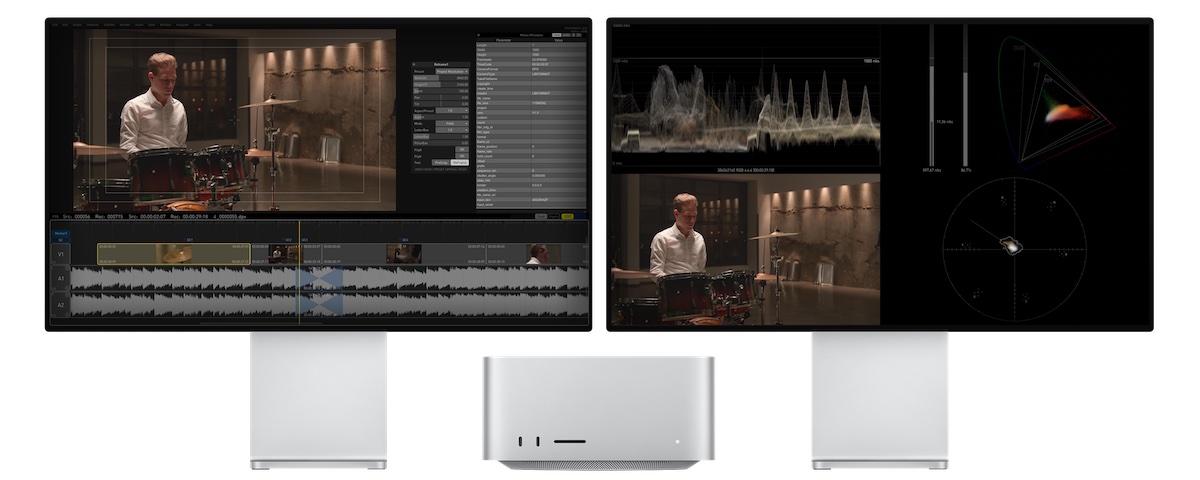 Colorfront Transkoder 2023 runs on both PC and Mac.
Audio

Dolby Digital Plus Audio Encoders for HEVC
Dolby Digital Plus (DDP) and Dolby Digital Plus with Dolby Atmos (DDPA) audio encoders are now supported in Transkoder for HEVC deliverables.

64 Audio Channels on Video Out
Transkoder can now output up to 64 discrete audio channels for UHD quad-link (4x1.5G or 3G) SDI outputs with Kona 5 and Corvid 44 video cards.

Volume Meter with 64 Channels
Transkoder can now display 64-channel audio in the Volume Meter window.

Metadata

Support for New ASC FDL
Import ASC's standardized Framing Decision List (FDL) as a JSON file and apply it to the current shot for pixel accurate extractions from various camera formats.

Loudness Analysis
Analyze audio loudness with Transkoder to meet delivery specifications based on various industry standards, including TruePeak, Dolby Dialogue Intelligence, Netflix [sdf] and EBU R128.

Graph Viewer in Colorfront Web UI
Assistant operators can now run and analyze QC checks from anywhere in your facility using Colorfront's highly capable, easy-to-use Web User Interface. The Web UI now includes a Graph Viewer for checking the results of Light Level Analysis or Video Compare form renders, HDR10 or Dolby Vision V2/V4 metadata, and for adding QC or reel markers.

Dolby Vision

HEVC Encoding with Dolby Vision Metadata
Transkoder now supports encoding HEVC files with Dolby Vision metadata using the Dolby Encoding Engine (DEE). The DEE is Dolby's stand-alone file-based CLI application for encoding Dolby Vision and Dolby Audio content, including HEVC processing, which has been integrated into Transkoder. The user can easily generate profile 5 and profile 8.1 Dolby Vision HEVC video files based on the metadata applied to the timeline.

Dolby Vision from HDR10
Using the Dolby Vision Frame Based encoder is the easiest and fastest way to convert an existing HDR10 project to Dolby Vision format by generating Level 1 metadata on a frame-by-frame basis.

ACES

New Default ACES Pipeline
Transkoder's new simple ACES color pipeline is fully compatible to ACES 1.3 and supports all published transforms. The Colorfront Engine ACES LMT (Look Modification Transform) can derive perceptually matching deliverables at any light level.

ACES AMF Import and Export
Import looks using a completely new ACES viewing pipeline via external ACES AMF metadata file in two ways: build a completely new ACES viewing pipeline or only update it based on the imported AMF metadata.

IMF and DCP Mastering

Support for Latest IMF App2E+ Standard
Transkoder supports the latest IMF application standard, App2E+ 2021 with Color8:HLG, Lossy/Lossless HTJ2K (High Throughput JPEG 2000) format and Dolby Vision metadata in ISXD MXF.

Rendering

GPU-Accelerated H.264 Encoder
8-bit H.264 encoders have been accelerated by GPU processing, which results in much faster rendering capability than with CPU.

New Web Encoder for PIX HDR Deliverables
Transkoder has a new Web encoder preset to generate HDR HEVC MP4 deliverable for PIX for color-accurate HDR review.

High-Throughput JPEG2000 (HTJ2K) Support
Encoding and decoding High-Throughput JPEG2000 (HTJ2K) frames for IMF packages.

Remote Workflows and Streaming

Remote Media Browser for Importing From Frame.io
Transkoder now supports importing remote media not only from S3, but also from Frame.io via the menu.

Remote Streaming - Lossless Audio Coding Support
Both AAC and PCM audio outputs are supported for streaming via Transkoder and the Streaming Player application.

NDI Video Output
Transkoder supports using NDI (Network Device Interface) for video output, a standard protocol for ultra-low latency, lossless video encoding and video transmission over the IP network.
TRANSKODER 2022 FEATURES
COLORFRONT ENGINE
Advanced color volume remapping tools using the Human Perceptual Model for multiple display mastering maintaining the original creative intent
HIGH DYNAMIC RANGE
Dolby Vision, HDR10, HLG and Premium Large Format Cinema support Dynamic range remapping and industry leading HDR mastering and QC tools
DOLBY VISION
Creation and authoring of metadata, eCMU, HDMI tunneling, 4.0 processing, DEE Dolby Vision HEVC encoding
8K VIDEO OUTPUT
Real-time 4K and 8K video output using AJA Kona5 with 12G-SDI and Blackmagic Decklink 8K Pro
IMF and DCP
Industry-leading IMF and DCP mastering tools, including Photon validation, App2E+, App4 (Cinema Mezzanine), App5 (ACES), ProRes RDD45
IMMERSIVE AUDIO
Reading, packaging, authoring and QC Immersive Audio Bitstreams. Preview object audio playback on 2.0, 5.1, 7.1, 7.1.4 speaker setups
NEW SUBTITLE ENGINE
IMSC IMF and DCI subtitles, advanced international language and styling support, multiple subtitle and CC tracks
PC AND CLOUD PLATFORMS
Frame.io support, REST API, workflow automation, S3 cloud storage, AWS EC2 support
RAW SUPPORT
All major camera RAW format support including ALEXA 35, SONY Venice 2, RED V-Raptor 8K, Blackmagic RAW, ProRes RAW, Phantom etc.
Colorfront Help Center with OSD & Transkoder User Guides and Tutorial Videos