NEW COLORFRONT ENGINE DELIVERS SEAMLESS HDR SOLUTIONS
Budapest, July 27, 2015 – Colorfront (www.colorfront.com), the Academy and Emmy Award-winning developer of high-performance, on-set dailies and transcoding systems for motion pictures, high-end episodic TV and commercials, is excited to present its integrated HDR toolset at SIGGraph 2015.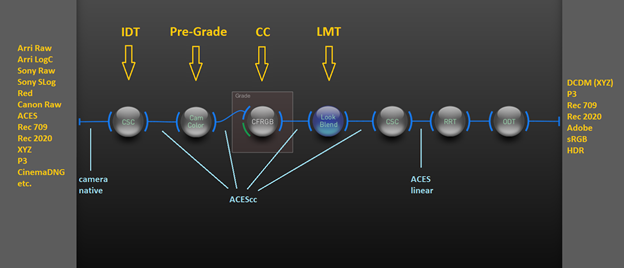 With this year's highly-publicized introduction of High Dynamic Range-capable displays from most of the leading television manufacturers at CES, there is a growing need to deliver an HDR version along with the standard range (SDR) deliverables. The dilemma is that currently there is no common standard for HDR delivery, amounting to a free-for-all, with each manufacturer as well as service provider proposing their own unique solution.
Furthermore, with the multitude of HDR-capable cameras, each with a unique color space, a common image workflow, independent of capture source and delivery specification, is needed. It is not practical to have independent, unique workflows for each capture format and delivery specification. Also, legacy color workflows are not able to maintain the wide range of colors, brightness, and contrast that are needed for a good HDR result.
Colorfront has been demonstrating end-to-end HDR solutions at the major industry trade shows for over two years. And now, Colorfront Engine™ delivers the reliable and streamlined path from production into post that content creators vitally need. Once a look has been designed, it can easily be rendered to SDR and HDR with minimal trimming between the two and then an output transform converts it to the final delivery specifications.
Colorfront Engine, a full 32-bit, floating point, high-performance managed image pipeline, is agnostic to source and delivery specifications and is based on the Academy ACES system. This allows for a single plug-and-play color workflow supporting both SDR and HDR. In fact, the system can simultaneously render both SDR and HDR to multiple delivery specifications. This will allow the master to support today's specifications as well as future needs.
In addition, the creative toolset within Colorfront Engine – including Camera Color™, Grading, Master Look™ library and Look Blender™– works equally well with SDR and HDR. There are also HDR specific tools to allow efficient, creative adjustment to the upper high dynamic range to maintain the aesthetic integrity of the image as well as converting between HDR formats.
Colorfront and ALT Systems, Colorfront's distributor in the Americas, will be exhibiting at SIGGraph for the first time this year. Also new for SIGGraph 2015 is the introduction of Colorfront's Nuke plugins, giving full access to the Colorfront Engine in the VFX world.
About Colorfront: Colorfront, based in Budapest, Hungary, is one of Europe's leading DI and post production facilities. The company was founded by brothers Mark and Aron Jaszberenyi, who together played a pivotal role in the emergence of non-linear DI. The company's R&D team earned an Academy Award for the development of Lustre, Autodesk's DI grading system, and a Primetime Engineering Emmy for the Colofront On-Set Dailies. Combining this in-depth expertise with a pedigree in the development of additional cutting-edge software, Colorfront offers today's most advanced technologies for scanning and recording, DI grading, conforming, digital dailies, VFX, online and offline editing, cinema sound mixing, mastering and deliverables. For further information please visit www.colorfront.com.
Media Contact:
Aron Jaszberenyi
E: aron

colorfront.com
T: +36 1 880 3900
M +36 30 311 1792